Established in the year 2000, 'Sparktime Logistics' services include a wide array of Freight Management and Customized Logistics Solutions backed by an automated ERP based Software.

We leverage our Operational Expertise, Technology and a Network of High Capacity Transportation Vehicles to identify transport & transport problems along with providing end-to-end supply chain solutions in the day-to-day dealings for our clients.

We assure our Customers that the future service expectation towards our customers will be balanced. Keeping in mind the changing demands and the global economic landscape, Spark Time has invested in People, New Technology and Equipment ensuring that the clients achieve their desired goals. "Team SPARKTIME" is committed to exceed clients expectations. That is the reason several of our original clients rely on us even today with longer associations.

Team Sparktime would like to take this opportunity to sincerely thank all the Customers and Business partners for their continued confidence and support.

Cordially yours,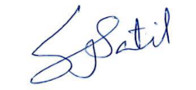 Mr. Sachin S. Patil
Managing Director,
SparkTime Logistics Pvt. Ltd.